Your little ones will love joining you for a day of baking fun—and taste testing the final product.
By Disney Family
What do you get when you mix a donut, cookie, and Mickey? A Mickey Donut Cookie, of course! This dessert combination is a fun twist on a classic sugar cookie recipe. Your little ones will love joining you for a day of baking fun—and taste testing the final product.
Mickey Donut Cookies | Serves 24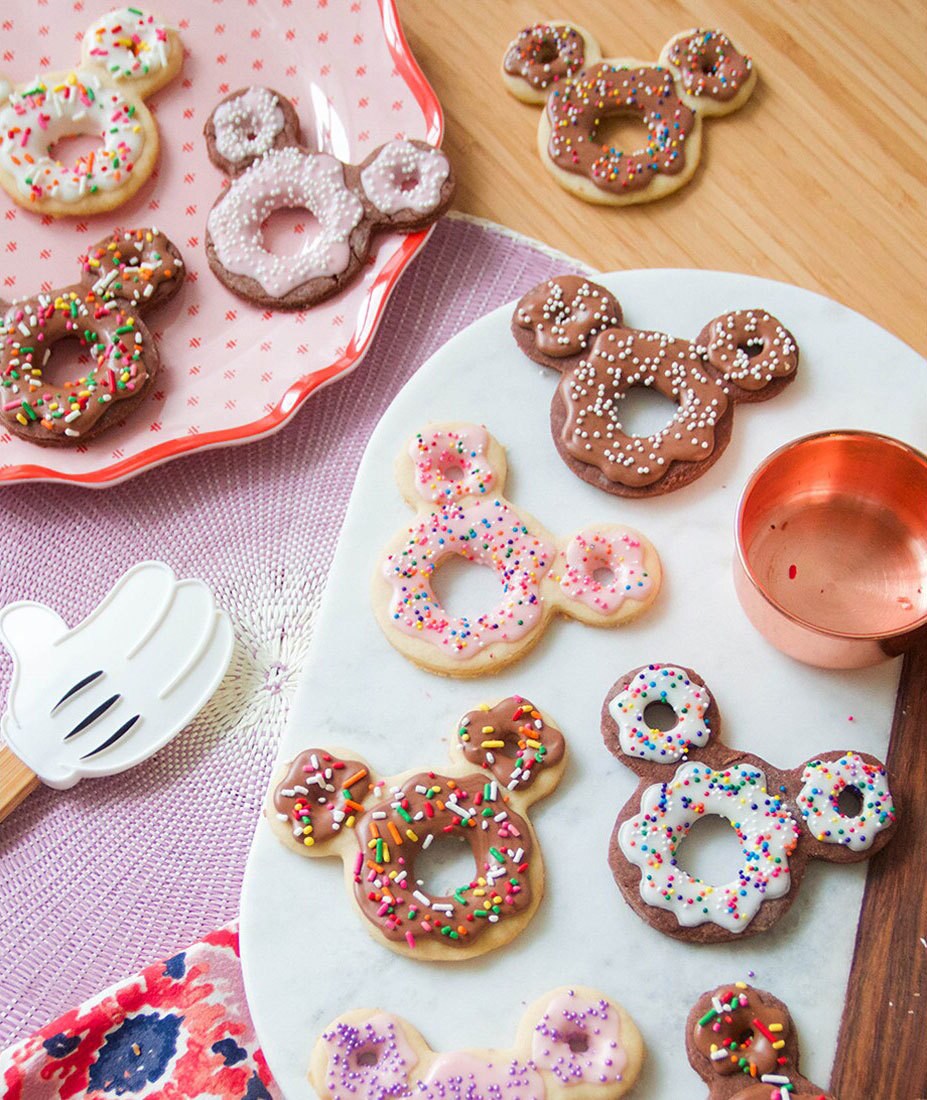 Ingredients
CAKE:
- 1 Cup butter, softened
- 1 Cup white sugar
- 1/4 Tsp vanilla extract
- 1 egg
- 3 1/2 Cups all-purpose flour
- 2 Tsps baking powder
- Dash of salt
- 1/3 Cup unsweetened cocoa powder
ROYAL ICING:
- 2 egg whites
- 1/2 Tsp vanilla
- 3 Cups powdered sugar (as needed)
- 2 Tsps milk (as needed)
- Red food coloring
- 1 Tbsp unsweetened cocoa powder
MATERIALS:
- Mickey cookie cutter
- Small, circular cookie cutter or paring knife
- Zip-top sandwich bags
- Scissors
- Colored sprinkles
Helpful Tip
All cutting and oven use should be done by an adult.
Directions
1. Preheat oven to 350° F
2. Combine the softened butter, sugar, egg, and vanilla in a large bowl. Whisk until the mixture is smooth.
3. Combine flour, baking powder, and salt in another bowl. Mix, then slowly add the dry mix into the wet, stirring as you pour. If you need to, use your hands to finish mixing the dough together.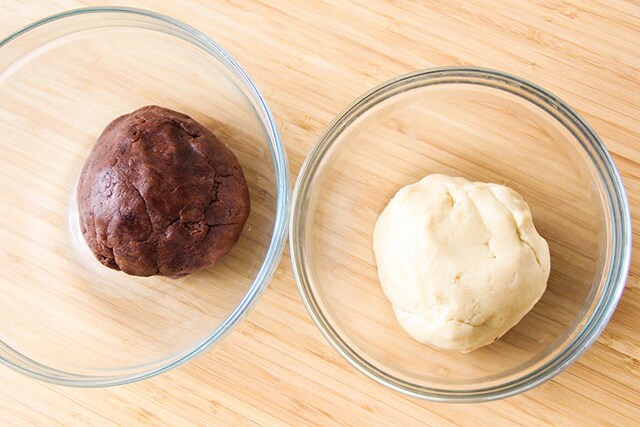 4. Separate the dough in half and place in bowls. Set 1 to the side, and in the other add the 1/3 cup cocoa powder to make the chocolate dough. Knead the dough until the cocoa is fully mixed in.
5. Roll all dough onto a well-floured surface.
6. Use the Mickey cookie cutter to cut out your shapes. Use a paring knife or a small circular cookie cutter to cut out the middle of the head and ears to make the donut shapes!
7. Place on parchment paper then onto a baking sheet (or use a greased baking sheet). Bake for 6-8 minutes.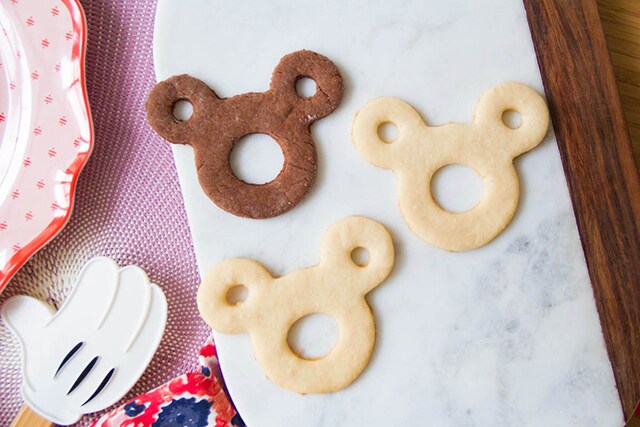 8. Let them cool while you make the icing. Combine 2 egg whites and the vanilla in a large bowl.
9. Slowly start adding powdered sugar (about 1/2 cup at a time). If you start with egg whites, you can better manage the consistency of your icing. If it becomes too stiff, you can add a little bit of milk (1/2 teaspoon at a time) to make it smoother. Once you've arrived at a consistency you like, separate the icing into 3 equal parts.
10. Dye 1 part with the red food coloring to make pink icing. Add 1 tablespoon of cocoa powder to the second portion to make chocolate icing. Leave the third portion white.
11. Spoon all 3 into their own sandwich bags. Cut a tiny corner off to create your own piping bag!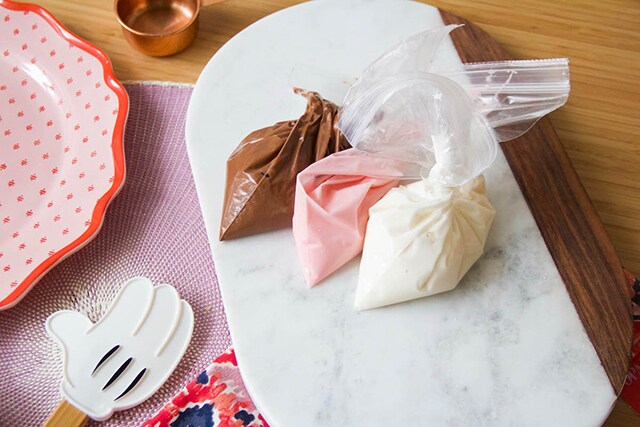 12. Pipe on the "donut frosting" and add sprinkles. Let dry, and enjoy!